From trekking to the base camp of Everest to wildlife safari in Chitwan and exploring UNESCO world heritage sites, Nepal has a lot to offer. Nepal is also dubbed the trekker's paradise and known for being the home to the world's highest peak. There are 8 of the 14 highest peaks in the world and more than 1,310 peaks over 6,000 m in height. Every year thousands of international tourists, trekkers, and adventures flock to Nepal to immerse themselves in the beauty of Nepal. Some travelers trek to the mountains, some explore cities, some enjoy white-water rafting and some explore UNESCO sites. Here are the top 15 things you can do in Nepal.
1. Trek through the Himalayas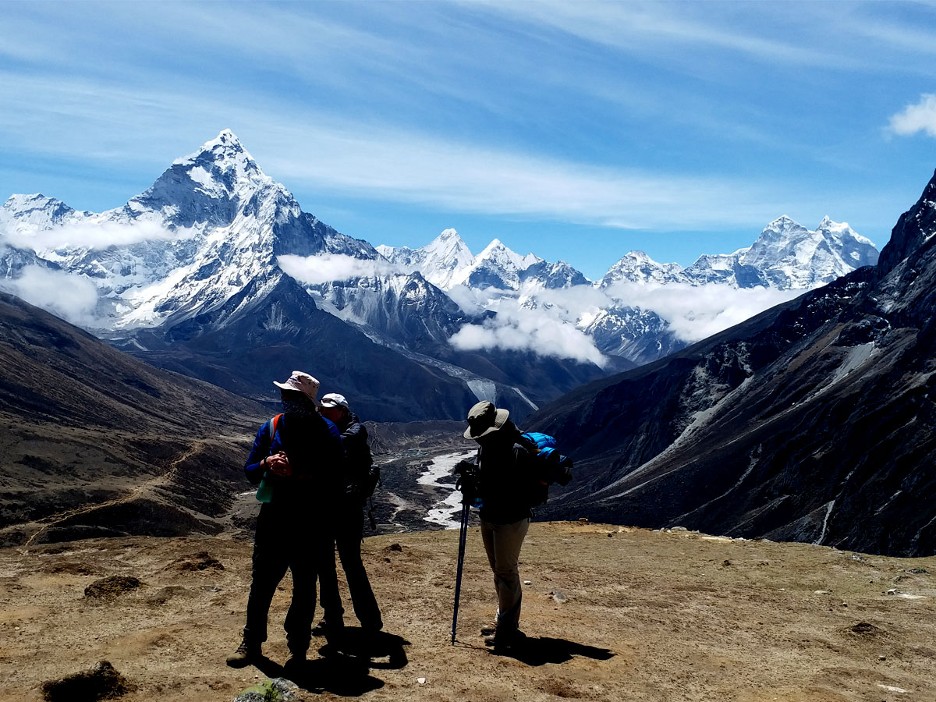 Nepal hosts some of the best treks in the world, like the Everest Base Camp Trek and Annapurna Circuit Trek. With 8 8000m peaks, and more than thousands of other peaks, there is a trek for everyone, be it a novice trekker or a seasoned trekker. Everest Base Camp Trek, Annapurna Base Camp Trek, Langtang Trek, Annapurna Circuit Trek, and Poon Hill Trek are the most sought-after treks in Nepal, welcoming thousands of trekkers every year in peak season. From easy self-guided treks to remote treks, Nepal has all sorts of treks. You can go for a day hike or embark on 2 weeks trek in the Nepal Himalayas.
2. Go Peak Climbing
With 8 of 14 Eight-Thousandars and thousands of towering peaks, Nepal is truly a paradise for mountaineering. There are more than a thousand peaks rising above 6,000m and innumerable 5,000m and 4,000m hills stretching from east to west. Every year thousands of elite and novice mountaineers visit Nepal for peak climbing. There are TREKKING PEAKS and EXPEDITION PEAKS for mountaineering expeditions. If you want to plunge into the mountaineering arena, you gotta climb trekking peaks which are considered easy to moderate climbing and require little to no technical skills. Mera Peak Climbing and Island peaks are the most sought-after climbing peaks in the Himalayas of Nepal. On the other hand, expedition peaks require technical climbing skills and are challenging.
3. Hike on the outskirt of Kathmandu
Kathmandu is not just famous for its sacred temples scattered around the city; it is also famous for the number of beautiful hikes. There are numerous short hikes on the outskirt of Kathmandu. From the Nagarkot hike to the Champadevi hike and Shivapuri Hike, hikers are left with many options. These short hike can reward breathtaking views of the mountains; some hike also rewards the Everest view. All these hikes are easy-graded and can be completed within a day or two. Champadevi hike, Nagarkot hike, Chisapani hike, Chandragiri hike, and Shivapur hike are some of the best short hikes around Kathmandu.
4. Savor Newari cuisine in Kathmandu
Kathmandu offers one unique perk to every traveler: Newari cuisine. Kathmandu is predominantly inhabited by Newar people and that implies Newari cuisine is readily available, mostly in Bhaktapur city. The impressive and infinite variety of Newari cuisine will leave you speechless and obsessed with it. Have you ever tried sel roti or Yomari? If not, you must try it. Sapu Mhicha, Bara, Chatamari, Chhoyela, and Juju Dhau are some must-try Nepali food items if you visit Nepal again.
5. Climb up to Swayambhunath Stupa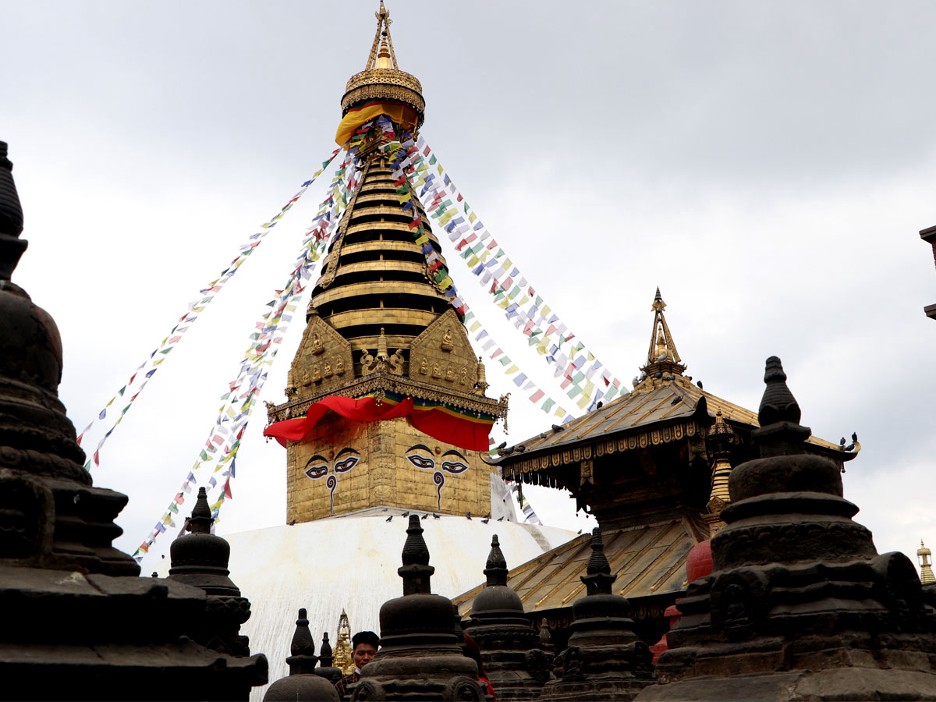 Swayambhunath, a UNESCO world heritage site in Kathmandu, is a must-visit place in Nepal. Overlooking Kathmandu valley, this stupa on top of a hill rewards a stunning view of Kathmandu valley. It is only a few miles away from the Tribhuvan International Airport. The enormous whitewashed dome of Stupa can be seen from the hill-station of Kathmandu and even from many areas of Kathmandu. Also called the Monkey Temple, this stupa is home to over 200 monkeys and hence the name. To reach the stupa, you must climb 365 stone steps. Every day, tourists in thousand numbers visit this Buddhist Stupa.
6. Watch the sunrise in Nagarkot, Dhulikhel, or Sarankot
There are many hill stations or viewpoints in Nepal to embrace stunning sunrise views. Nagarkot, Dhulikhel and Sarankot are the few best spots that offer sublime views of the Himalayas. Nagarkot and Dhulikhel are easily reachable from Kathmandu, while Sarankot is in Pokhara, and you need to catch a short flight to Pokhara and drive for a bit and hike to reach this viewpoint. All these viewpoints are at elevation location that offers great view around. Make sure to visit these places during spring, autumn or early time during monsoon. You can stay overnight at nearby guesthouses and hotels to enjoy the sunrise view.
7. Visit the birthplace of the Buddha
Everyone knows that Lumbini is the birthplace of the Lord Buddha. And visiting this place is one of the best things to do when you travel to Nepal. In 563 BCE, Siddhartha Gautama was born in Lumbini in the Terai region of Nepal and now that place is a UNESCO world heritage site, inscribed in 1997. Lumbini is also one of the holiest places in the world, drawing pilgrims from around the world. There are ancient stupas dating back to 2000 years and Maya Devi Temple in Lumbini. If you're more into history, archeology and spirituality, then Lumbini is a must-visit place for you.
8. Explore Bandipur
The Newari town of Bandipur is only a few hours drives away from Kathmandu and is popular for its unique beauty. This town offers epic Himalayan views, and amazing countryside walks. Bandipur is full of traditional village architecture that dates back to the 18th century. The flagstone street of Bandipur gives different vibes. Bandipur is also considered a sweet break between Pokhara to Kathmandu and vice versa journey. The best part of Bandipur is the laidback ambiance; you can walk slowly, away from the daily chaos, and enjoy the beauty of Bandipur. There are few hotels for overnight stays and weekend getaways.
9. Go white water rafting
If you are more into water adventure, you need not worry. You can go white-water rafting in many rivers across the country. Nepal is one of the best destinations for white-water rafting. Did you know Nepal is the second-richest country in water resources? There are over 6000 beautiful rivers in Nepal. For white-water rafting, Kathmandu and Pokhara are the two popular cities. You can embark on a one-day white-water rafting trip from these two cities. There are many local tour companies offering many rafting trips. Trishuli, Bhote Koshi, Seti and Sun Koshi River are the top rivers for white-water rafting in Nepal.
10. Explore UNESCO World Heritage Sites
Kathmandu Durbar Square, Bhaktapur Durbar Square, Patan Durbar Square, Sagarmatha National Park, Chitwan National Park, Lumbini, Swayambhunath Stupa, Boudhanath Stupa, Pashupatinath Temple, and Changunarayan Temple the site enlisted in World UNESCO heritage site list. Nepal is home to 10 UNESCO World heritage sites. From Sagarmatha National Park in the Everest region to Lumbini in the Terai region of Nepal, all 10 UNESCO sites are truly beautiful and incredible places to explore as a traveler. Each site has its own significance and beauty. Every year, thousands of travelers visit Nepal to explore these sites.
11. Paraglide in Pokhara
One thing Pokhara is famous for is paragliding. Paragliding in Pokhara is one most beautiful adventures you can look forward to. It grants you the best view of Phewa Lake, Pokhara city, and towering peaks. You can admire awe-inspiring views of mountains like Annapurna, Huinchuli, Dhaulagiri and Machhapuchre. Sarangkot is the hill station for paragliding and lasts about 25 minutes. You can join paragliding any month of the year; however, the months of September, October, November, December, February, March, April, and May are considered the best time of the year.
12. Go birdwatching in Koshi Tappu
Nepal is heaven for bird watching. Ornithophile finds Nepal truly a magical country. Koshi Tappu Wildlife Reserve provides excellent opportunity for birdwatching as it is home to around 527 species of resident and migratory birds. You can also catch the glimpse of birds like wamp francolin, and the Bengal florican. Many travel agencies in Nepal offers trip to Koshi Tappu for birdwatching. The first month of spring is considered best time to spot various bird in this reserve.
13. Go Mountain biking
Mountain biking in Nepal is getting the attention it deserves, with international travelers coming to Nepal for mountain biking in the backroads and tracks across the corners of Nepal. You can always rent a decent bike and hit the road. You will get to navigate the insane trail backdropped by some of the highest peaks in the world and dotted by monasteries and chortens. The good news is that mountain biking is among the fastest-growing sports in Nepal. The biking scene in Nepal is definitely growing among youths and international cyclists. You can go mountain biking in Kathmandu valley or to the far-flung region of Nepal like Mustang and even the Everest region.
14. Spot one-horned rhinos in the Terai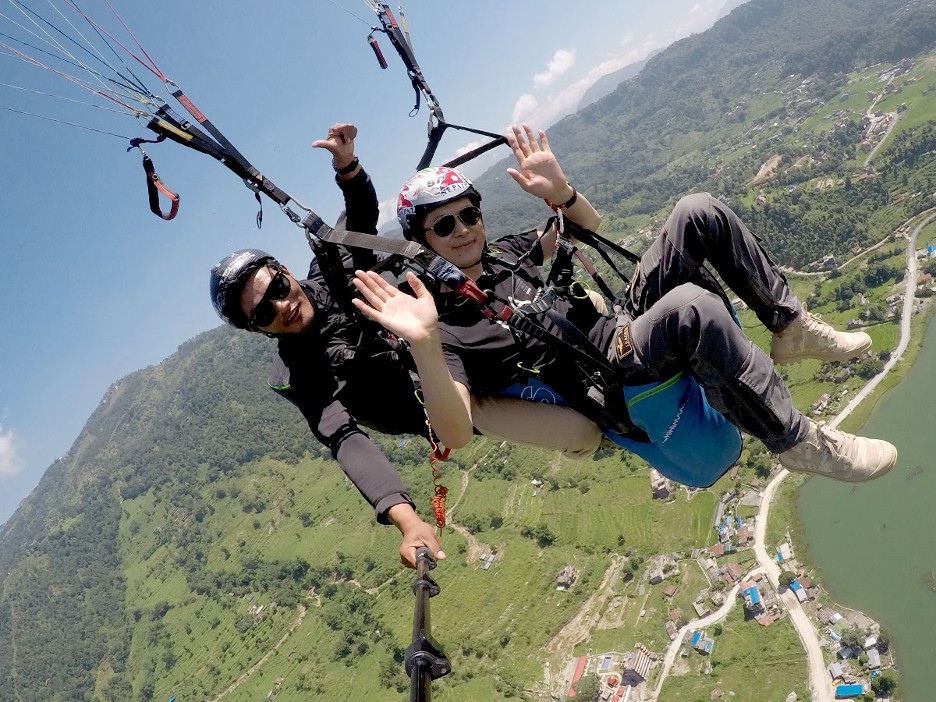 I know not everyone loves to spot rhinos. There's nothing so interesting about it. But one-horned rhinos are some of the most endangered animals on the planet, and Nepal is one hot destination to spot one-horned rhinos. The existence of one-horned rhinos is in danger due to illegal hunting but due to national and international conservation efforts, these majestic creatures can be seen in the forests and marshlands of Chitwan National Park and Bardia National Park. You can head to these national parks and enjoy seeing one-horned rhinos in their natural habitat. You can also spot animals like tigers, wild elephants and crocodiles.
15. Enjoy Mountain Flight
If you hate to trek for days, there is something special for you: a mountain flight and Helicopter Tours In Nepal. Yes, you heard it right. You need not plan for week's long trek; you can embark on a spectacular mountain flight to enjoy the views of towering peaks and stunning landscapes. It only takes a few minutes. Mountain flights By Helicopter and Regular Plane can be done from Kathmandu and Pokhara. You can book a mountain flight to Everest or other areas of Nepal, but the most popular is the Everest mountain flight.