Fiji is a country in the South Pacific that consists of over 300 islands, and is well known for its great weather and welcoming locals. The two main islands, Vita Levu and Vanua Levu, house most of the population and are popular tourist spots. Whetehr you are seeking a relaxing escape or an adventurous holiday, Fiji has something for everyone.
Fiji is only about a 4 hour flight from Sydney airport, and is very popular for travel amongst Australians. Fiji itself is safe and easy to get around, with excellent transport options and friendly people.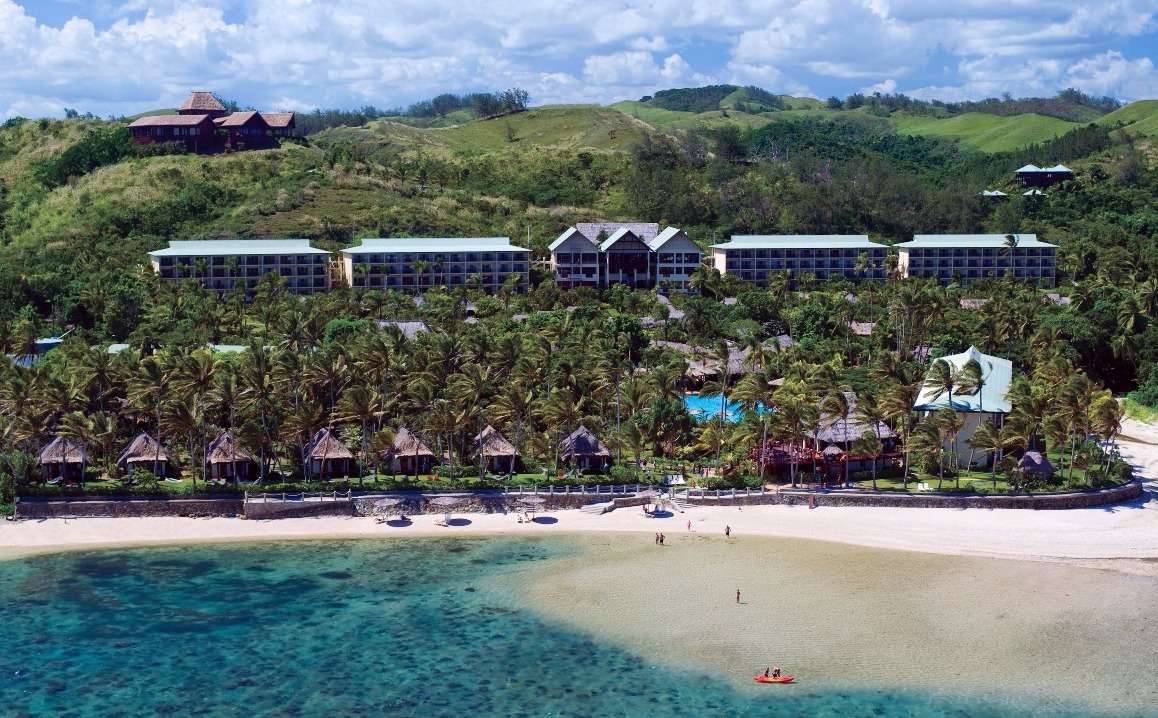 There are so many more reasons why Fiji holiday should be your next international holiday. Whether it be food, accomodation, or adventure you are looking for, Fiji has it all.
1. Fiji has natural beauty
On Fiji, natural beauty is in abundance. With white sand beaches, crystal clear waters, lush tropical rainforests and the most amazing coral reef in the world, Fiji is truly a paradise! From the mountains of Mount Yali to the dramatic cliffs of the Yasawa Islands, Fiji has a stunning array of landscapes and attractions.
Fiji is famous for the crystal clear water that flows through its islands, giving the islands a very relaxing and beautiful atmosphere.
2. Fiji has delicious food
The island nation boasts one of the finest cuisines in the world. Freshly caught seafood is a big part of the diet, and the local fish are very tasty and full of flavour. Fijian food consists of traditional dishes like "mahi mahi" (a popular delicacy consisting of grilled and lightly battered fish), "wok fish" (grilled over open coals) and "coconut rice".
In Fiji, there are restaurants serving the traditional Fijian dishes.
3. Fiji's locals are welcoming and kind
There is a real sense of community spirit in Fiji.
Locals love to meet new people and have a warm welcome for visitors. If you visit Fiji, you will be surprised by the friendly attitude that the locals have towards visitors. Visitors will be made to feel like family as they enjoy the local cuisine, relax on the beach and enjoy the hospitality of their hosts.
4. Fiji has amazing beaches
If you're looking for a quiet spot to relax, the beaches of Fiji are a great choice. All around the country, the beaches are gorgeous. There are white sandy beaches with crystal clear waters.
There are many beaches around Fiji, and each beach is unique and different. Some of the beaches are popular among the locals while others are just for tourists. For example, the beaches at Nadi are mainly frequented by travellers and travellers from Australia, but those on the other side of the islands are frequented by locals.
5. Fiji is excellent for surfing
If you want to learn about surfing, Fiji is one of the best places to go to. There are a lot of surf schools and surf shops all over the islands. The main beaches offer consistent surf that makes it easy for beginners and advanced surfers to learn.
The beaches in Taveuni are a popular surfing destination and there are also surf clubs in Taveuni and in Nadi.
6. Fiji has beautiful coral reefs and marine life
Fiji is a very popular destination for scuba divers because of its rich coral reef. If you want to explore the marine life, there are many dive sites around Fiji. You can explore the corals and other tropical fish around Fiji by snorkelling or diving.
7. Fiji has luxurious accomodation
Fiji has luxurious accomodation for tourists. You can stay at 5 star hotels and enjoy all the facilities that come with them. Many of these hotels are situated in Nadi or Lautoka, which are popular tourist destinations. The hotels usually include swimming pools, internet, laundry service and other services.
If you are looking for a good Fiji resort or hotel in Fiji, it would be best to look at hotels in Nadi or Lautoka because they are very popular and have good amenities.
8. Fiji has lots of islands to explore
There are over 300 different islands in Fiji, each with its own unique environment. You can visit them by travelling by boat, which is much easier and cheaper than travelling by plane. It is a good idea to choose the time of the year to visit each island because the weather changes drastically from one island to the next.
9. Fiji is a family destination
Families can travel together and have a nice holiday. There are many resorts and hotels that offer fun activities and a safe environment for the whole family to enjoy themselves. The water sports are good for both children and adults.
Kids can also enjoy the fun things that people do in Fiji, such as surfing and diving. You can go on boat tours, snorkelling or kayaking. These activities are excellent for both kids and adults.
10. Fiji has great weather
he tropical climate, warm ocean waters and lush greenery make Fiji the perfect place for vacationing.
The weather in Fiji is hot and humid during the wet season but there are no extreme variations in temperature. During the dry season, the weather is relatively cooler and pleasant. This means that you can enjoy the outdoors all year long.
Why you should visit Fiji
Fiji is one of the best holiday destinations in the world due to its optimal climate, amazing people, and great atmosphere. Whatever you want from your holiday, Fiji will have something for you.