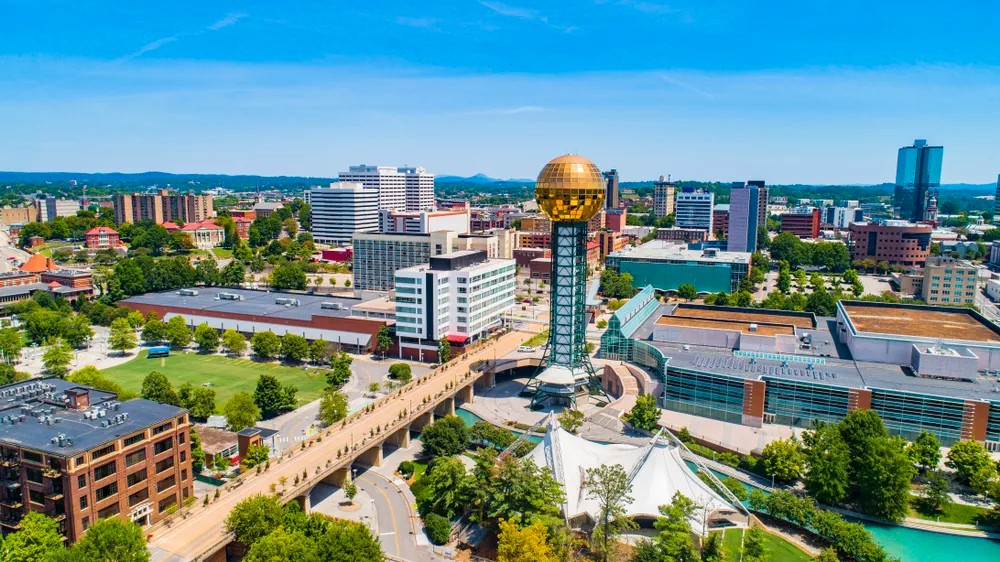 The spectacular city of Knoxville, TN is blessed by magnificent natural sites such as the Tennessee River, the beautiful Great Smoky Mountains and the amazing National Park. On a trip to this city, you can learn all about Tennessee culture and history through museums, history centers, gardens, exhibitions and theaters, as well as a variety of buildings and countless historical monuments. Knoxville was a landmark during the Civil War, and as such, this action is featured throughout the city through historic attractions that will capture the sights of history buffs.
World's Fair Park
The World's Fair Park was the commemoration site for the World's Fair in 1982 and continues to be one of Knoxville's most envied tourist attractions today. The park is created by grassy hills, cobbled walking paths and water fountains. When the temperature rises, you can cool off in the spectacular fountains and geysers or you can simply watch several of the live music concerts that take place during the holiday season.
Museum of Natural History and Culture
This museum is easily recognizable thanks to the beautiful dinosaur that greets attendees in the front garden. The museum's mission is to expose the best of Tennessee's ancient and historical background by finding fossils and large dinosaur bones on display, as well as demonstrations that delve into the phases of the Civil War.
Tennessee Theater
The Tennessee Theater was founded in 1928, as a movie theater. Today the theater is an icon thanks to its Spanish-Arabic architectural quality. Here you will find antiques such as the original crystal lamps, as well as marble floors and Asian dresses. If you want to know more about the culture, it is one of the main places to find it.
Mabry-Hazen House Museum
The Mabry-Hazen Housing Museum sits on attractive Mabry Hill and used to be the residence of one of Knoxville's most reputable families. The house dates back to 1858 and boasts a large selection of antiques that belonged to the Mabry-Hazen family, giving you a unique insight into how this family would have lived in Tennessee. The house was also used by union and confederate associations.
Knoxville Zoo
To see some of Knoxville's most exotic wildlife, head to the Knoxville Zoo, a natural setting where you can find more than 900 animals. The species here come from all over the planet and are located according to their habitats. You can also see special animals such as Komodo dragons. There are also animal encounter areas where you can get a little closer to wildlife.
East Tennessee History Center
To catch a glimpse of the amazing history of North America, go to the East Tennessee History Center, where you can learn all about it. Here you will find a variety of exhibits including interactive corridors and personal stories that will take you back 300 years.
Old City
Old Town is the nickname given to the historic headquarters of Knoxville, and is one of the city's most beloved precincts. You will find quirky spots here, ranging from vibrant art galleries to hip coffee shops, or you can enjoy a variety of Tennessee cuisine at one of the local restaurants. As night falls, you will not be bored as there are live music shows.